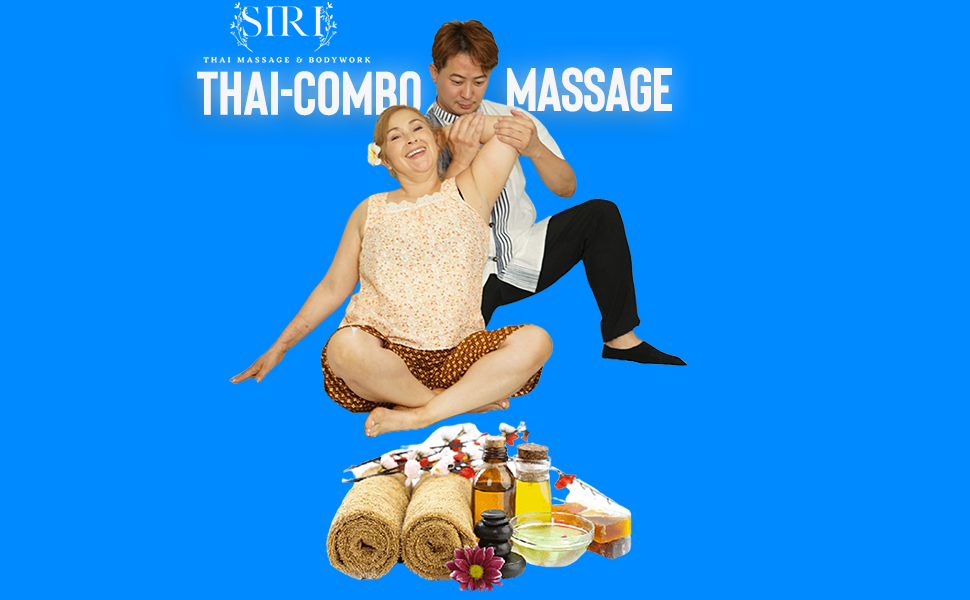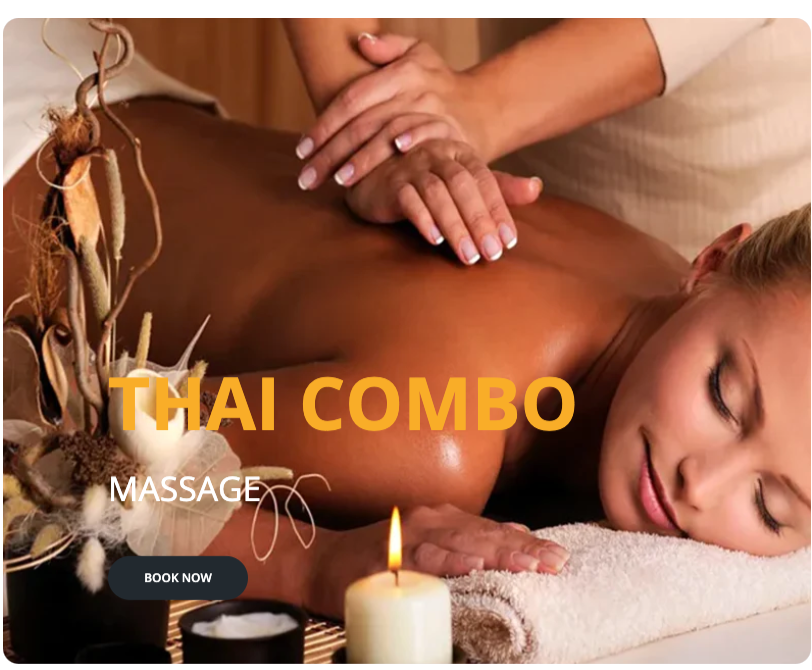 Thai-Combo Massage
Subscription • Save Up to 15%
Short description
Expert Therapists: Our team of highly trained and experienced massage therapists are dedicated to providing personalized treatments tailored to your specific preferences and concerns. Their expertise ensures that you receive the highest quality care during your session.
Share
Whatis Thai-Combo Massage
The term "Thai combo massage" generally refers to a type of massage that combines elements of traditional Thai massage with other massage techniques. Thai massage, also known as Nuad Bo-Rarn, is a traditional healing practice that originated in Thailand and involves a combination of acupressure, stretching, and applied yoga-like movements.
A Thai combo massage typically incorporates techniques from various styles of massage, such as Swedish massage, deep tissue massage, aromatherapy, or hot stone massage, along with the traditional Thai techniques. The goal of a Thai combo massage is to provide a well-rounded and customizable experience that addresses specific needs and preferences.
The combination of different massage techniques aims to provide relaxation, relief from muscle tension, improved circulation, and an overall sense of well-being. The therapist may use their hands, elbows, knees, and feet to apply pressure and perform stretches. The combination of techniques allows for a more comprehensive approach to addressing both physical and mental aspects of well-being.
It's important to note that the specifics of a Thai combo massage can vary depending on the spa, therapist, or wellness center offering the service. If you're interested in experiencing a Thai combo massage, it's a good idea to inquire about the specific techniques and styles that will be incorporated to ensure that it aligns with your preferences and needs. 
            Benefits of Thai-Combo Massage
Muscle Tension Relief: The combination of Thai massage techniques and other massage styles can help release muscle tension and knots, promoting relaxation and a reduction in muscle soreness.

Improved Flexibility: Traditional Thai massage involves passive stretching and yoga-like movements, which can help improve flexibility, increase range of motion, and enhance overall joint mobility.

Stress Reduction: The relaxation and soothing effects of massage, combined with the therapeutic touch of a skilled therapist, can help reduce stress levels and promote a sense of calm.

Enhanced Circulation: The massage techniques used in a Thai combo massage can stimulate blood flow, potentially leading to better circulation and oxygenation of tissues.

Pain Management: By addressing muscular tension and promoting relaxation, Thai combo massage may contribute to pain relief, especially in areas of chronic pain or discomfort.

Energy Balance: Traditional Thai massage is based on the concept of energy pathways (Sen lines) in the body. By working on these pathways, a Thai combo massage aims to restore balance and promote the flow of energy.

Improved Posture: The stretching and alignment techniques used in Thai massage can help improve posture by targeting areas of tension and imbalance.

Mind-Body Connection: Thai combo massage can promote a greater awareness of the mind-body connection, helping you feel more in tune with your body and fostering a sense of mindfulness.

Relaxation and Well-Being: The overall relaxation and pampering experience of a Thai combo massage can contribute to a sense of well-being and rejuvenation.

Customizable Experience: Thai combo massage allows for customization based on individual preferences and needs, as different massage styles can be integrated to target specific areas or issues.

Release of Emotional Tension: Massage therapy can help release emotional tension stored in the body, contributing to a sense of emotional well-being.

Promotion of Sleep Quality: The relaxation-inducing effects of Thai combo massage may improve sleep quality and help with insomnia or sleep disturbances.
It's important to note that individual experiences may vary, and while many people find Thai combo massage beneficial, results can depend on factors such as the skill of the therapist, the specific techniques used, and individual health conditions. If you're considering a Thai combo massage, it's a good idea to consult with a qualified massage therapist to discuss your goals and any concerns you may have.
My first ever Thai massage at the end of June and it surpassed my expectations.
Kate is amazing!! I received my first ever Thai massage at the end of June and it surpassed my expectations. If you need a deep deep tissue massage this is the place!! They are such great hosts and make you feel very comfortable. I went back a few weeks ago because I have so much tensions and stress in my neck and shoulders. They are easy to book with online and the availability is flexible.
The techniques Goff used gave me immediate pain relief and two days later, I am still pain free.
I was in urgent need of care before my three hour car ride back home. My left shoulder had been in a state of complete peril for at least 48 hours so I was super relieved when Siri Thai Massage was able to take me in at the last minute.
I've been getting massages for at least 10 years now and I've been to some of the best spots as well as some of the dingiest. Siri Thai Massage is definitely a cut above the rest. Their service is truly tailored to your individual needs. No rush to get to the next client. No frills. Goff really listened to my concerns and took great care of me. Not only was he super attentive and thoughtful but I feel like he really went above and beyond to help me find ways to alleviate myself (my pain is more so chronic) in the future.
I come to town a lot for work and I can definitely say I will stop by every time! I truly appreciate the artistry of this team as well as the mastery of their skill. I have been charged at least 1.5/2x as much at an average massage spot so financially speaking, Siri is really offering their clients a bargain! Now that I've experienced Thai massage (compared to Swedish, deep tissue, etc), I will just never go back to anything else! The techniques Goff used gave me immediate pain relief and two days later, I am still pain free.
Thanks, Siri Thai Massage!
Truly therapeutic. Everything about it was so relaxing.
Truly therapeutic. Everything about it was so relaxing. My husband had a 90 min Thai combo massage and I had the same but added the herbal ball. This was my first time having an herbal ball used on me and I loved it, it was so warm and soothing. My masseuse (I think Mia) was so sweet and very thorough. She worked hard on my body trying to work out knots even being surprised at how much pressure I can take and to my surprise I still felt great the next day, no soreness from how hard she worked on me. From walking into the door and upon leaving, it was a great experience throughout.
If you are curious about Thai massage definitely give this place a try.
Meya is gifted! I have been struggling with a migraine for weeks and tried Thai massage for the first time to smooth my aching body. She tuned into my needs and helped me feel comfortable and cared for. If you are curious about Thai massage definitely give this place a try.
I had a wonderful 90 Thai Combo massage with Kate. The ambiance was lovely, service friendly, and the massage was high quality. Feeling refreshed and looking forward to going back!