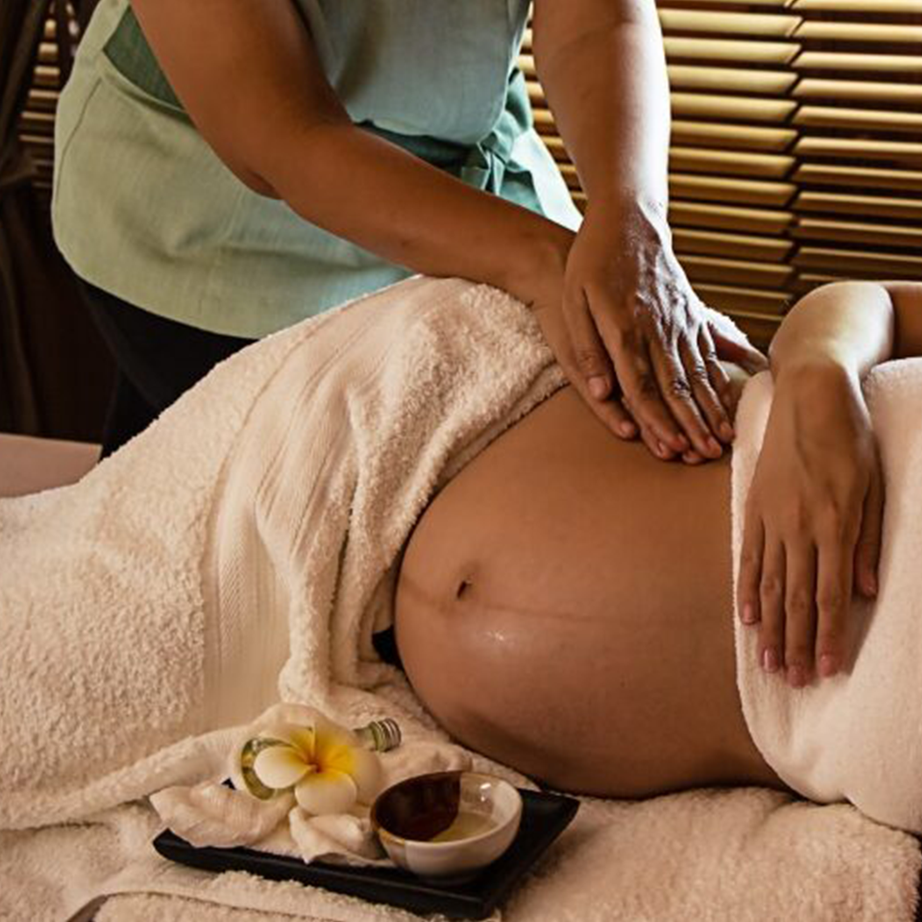 Enlarge photo
Prenatal Massage
Short description
Expert Therapists: Our team of highly trained and experienced massage therapists are dedicated to providing personalized treatments tailored to your specific preferences and concerns. Their expertise ensures that you receive the highest quality care during your session.
Share
               What is Prenatal massage? 
Prenatal massage, also known as pregnancy massage, is a therapeutic massage specifically designed to cater to the needs of pregnant individuals. It provides relief from the physical and emotional discomforts that can accompany pregnancy. Prenatal massage is generally safe and can offer various benefits to pregnant women, although it's important to consult with a healthcare provider before undergoing any form of massage during pregnancy.
Here are some key points about prenatal massage:
Purpose: Prenatal massage aims to address the unique changes and challenges that come with pregnancy, such as back pain, swelling, joint discomfort, muscle tension, and emotional stress.

Qualified Therapists: It's crucial to seek out a licensed and experienced massage therapist who specializes in prenatal massage. They should be knowledgeable about the anatomical and physiological changes that occur during pregnancy and how to adapt massage techniques accordingly.

Positioning: Prenatal massage is typically done with the pregnant person lying on their side, supported by pillows or specially designed bolsters. This positioning ensures comfort and safety while avoiding pressure on the abdomen.

Techniques: The massage therapist will use techniques that are gentle and adapted for pregnancy. These may include Swedish massage strokes, kneading, gentle stretching, and sometimes even the use of specialized tools.

Benefits: Prenatal massage can offer several benefits, such as reducing muscle tension and pain, improving circulation, alleviating swelling in the extremities, enhancing mood, and promoting relaxation and better sleep.

Safety Considerations: While prenatal massage is generally safe, there are certain conditions and situations where it may be contraindicated. For instance, high-risk pregnancies, preeclampsia, certain medical conditions, and sensitivity to touch might require modifications or avoidance of massage. It's crucial to consult with a healthcare provider before scheduling a prenatal massage.

Trained Professionals: A qualified prenatal massage therapist will take into account the specific trimester of pregnancy and tailor the massage accordingly. They will also inquire about any medical history or concerns to ensure the safety and comfort of the pregnant individual.
Remember, the primary goal of prenatal massage is to provide relaxation, alleviate discomfort, and support the well-being of the pregnant person. Always communicate openly with your healthcare provider and the massage therapist to ensure that the treatment is appropriate and safe for your individual circumstances. 
            Benefits of Prenatal Massage
Prenatal massage, also known as pregnancy massage, is a specialized form of massage therapy designed to support expectant mothers throughout their pregnancy journey. It focuses on addressing the unique physical and emotional changes that occur during pregnancy. Prenatal massage can provide a range of potential benefits for both the mother and the developing baby. Here are some of the benefits of prenatal massage:
Stress Reduction: Pregnancy can bring about increased stress and anxiety. Prenatal massage promotes relaxation and helps reduce stress levels, which can have positive effects on both the mother's and baby's well-being.

Pain Relief: Prenatal massage can alleviate common discomforts of pregnancy such as back pain, sciatica, hip pain, and joint pain. The therapist uses gentle techniques to target specific areas of tension and provide relief.

Improved Circulation: Pregnancy can lead to reduced circulation due to increased pressure on blood vessels. Prenatal massage enhances blood flow and lymphatic circulation, helping to reduce swelling (edema) in the extremities.

Muscle Tension Relief: As the body undergoes changes to accommodate the growing baby, muscle tension can arise. Prenatal massage helps relax muscles and relieve tension, particularly in the back, shoulders, and hips.

Reduced Headaches: Hormonal changes during pregnancy can sometimes lead to headaches. Prenatal massage can help alleviate tension and stress-related headaches.

Better Sleep: Many pregnant women struggle with sleep disturbances. Prenatal massage promotes relaxation and can improve sleep quality by reducing anxiety and discomfort.

Hormonal Regulation: Prenatal massage has been shown to positively influence hormonal levels, including reducing stress hormones and increasing feel-good hormones like serotonin and dopamine.

Enhanced Mood: The relaxation and comfort provided by prenatal massage can contribute to a more positive mood and emotional well-being.

Preparation for Labor: Prenatal massage techniques can include gentle stretching and pressure points that may help prepare the body for labor and childbirth.

Connection with Baby: Prenatal massage provides a dedicated time for the mother to connect with her growing baby, fostering a sense of bonding and nurturing.

Lower Risk of Premature Birth: Some studies suggest that regular prenatal massage may be associated with a reduced risk of preterm labor and low birth weight, although more research is needed to establish a definitive link.

Support for Physical Changes: Prenatal massage can help support the body's changing posture and alignment, especially as the center of gravity shifts due to the growing belly.
It's important to note that prenatal massage should only be performed by a licensed and trained prenatal massage therapist who is familiar with the specific needs and safety considerations of pregnancy. Pregnant women should consult their healthcare provider before receiving prenatal massage, especially if they have any underlying medical conditions or high-risk pregnancies. The therapist will use specialized techniques and positioning to ensure the safety and comfort of both the mother and the baby during the massage session.